LOS ANGELES – As communities and businesses explore ways to protect against community spread of COVID-19, thermal imaging technology is in high demand.
In June, thermal cameras were deployed at two locations inside the Tom Bradley International terminal. The cameras are looking at the main entrance on the departures level and inside the terminal near select international arrival where both arriving and departing passengers are screened.
The cameras are designed to rapidly identify people with body temperatures of 100.4 degrees or more, which is the current guideline for detecting a fever set by the Centers for Disease Control and Prevention.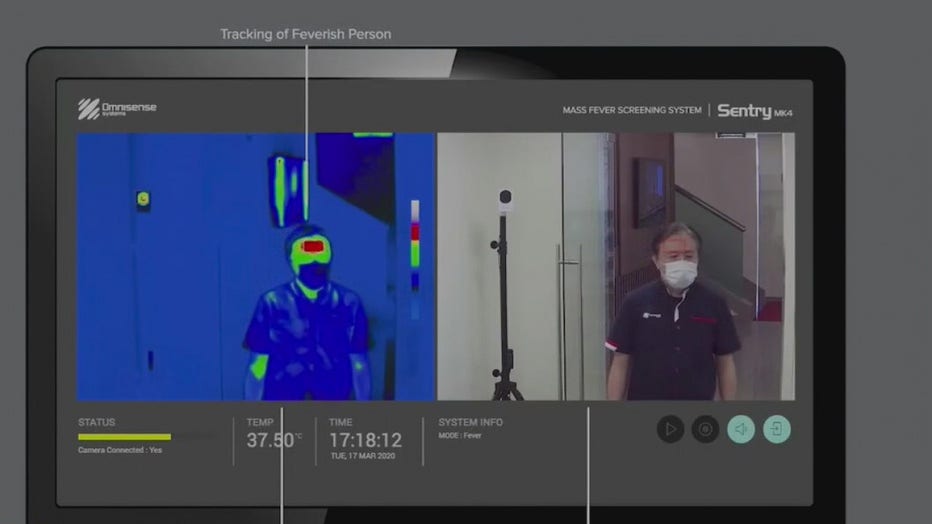 "In order to verify the first temperature, we ask them to step aside and use a second thermometer we have," said Concentra Medical assistant Genevie Guillen. "We basically call them on the side and give them papers from the CDC and let them know they can continue on their journey or go home," said Guillen.
The voluntary three-month pilot program includes signage alerting passengers where the cameras are placed. If a passenger indicates a fever, they are still permitted to proceed to check into their flight. The airline will determine if the passenger is able to board the plane or not.
"I thought it was dope the way they did it. We didn't have to do anything. The camera could see us as we were walking in. I think it's pretty cool to have this technology, especially in this time," said LAX passenger Rob Taylor.
Prior to the pandemic, LAX was the third busiest airport in the world and moved a record 88.1 million travelers in 2019. In April, passenger traffic at LAX was more than 95% below what it was a year earlier.
"In America, in particular, I think people see this as new technology, and in fac, it's not. Its been around a long time in other countries affected by previous pandemics, "said Andrew Southern, an authorized reseller of the Omnisense cameras operated at the Los Angeles International Airport.
The growing use of the technology has civil liberties experts warning about accuracy and privacy.
"In terms of privacy the best of these systems operate on their own, they don't record anything to the internet. It's just real-time monitoring as people walk by," said Southern.
https://www.invisiblehealthtechnologies.com/wp-content/uploads/post3.png
321
553
gethunter
https://ihtech.wpengine.com/wp-content/uploads/white-logo-w-padding.png
gethunter
2020-08-10 15:28:25
2020-08-10 17:50:35
Thermal Imaging Cameras Becoming New Normal to Screen Crowds